Kira's Nepal Projects
My
Journey with Nepal,
Giving Back ... and receiving far more than I ever imagined!
*** For news about what Kira has been doing post-earthquake in Nepal please visit: http://www.handswithhands.com/news.html ***

I hope that my words here can inspire other people to follow
their heart and intuition for the benefit of us all!

www.handswithhands.comSince 2001 I have been actively participating with Nepali friends in various projects that have evolved organically out of our mutual interest to support children and women in need. We have farm style children's homes, education projects, an expanding outreach microcredit program to support rural women in their own businesses, and more. For details about the projects and how you might also become involved please visit: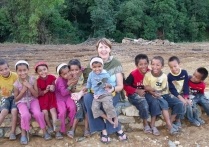 If you are interested in a sponsorship that gives orphans living in our children's homes the chance to get a higher level of school education
Contact me here using my contact form.
Why Giving Back Projects in Nepal ?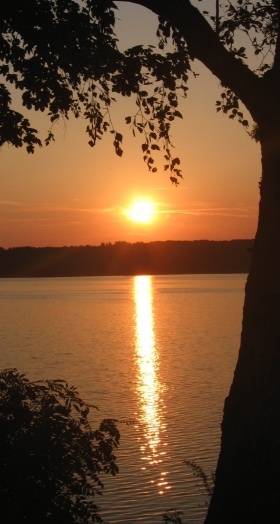 Realisation
In 1995 I had a series of dreams of being in the Himalayan Mountains and sitting by a lake receiving instruction about my life from an old wise man.
Some months later I made the trip to Nepal and impatiently hiked up the mountains and sat beside a lake … and instead of meeting a wise man I met my own inner voice with a loud and clear message – find myself and embrace my own humanity and others, and get out of the 'ideas' of a spiritual journey!
As I walked back down the mountains and assessed my life and the world around me I felt quite humbled and realised how selfish I had been. It was a life changing moment.
I left that trip of Nepal with two things – the depth of this realisation still working within me and the memory of the gentle natured people living in poor conditions yet happy of spirit.
Returning to Nepal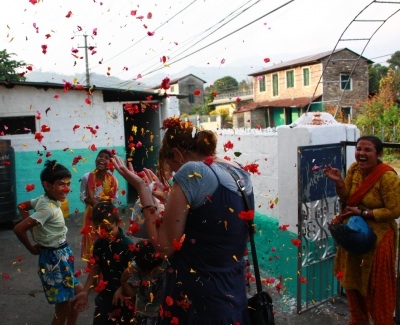 It was some years before I returned to Nepal in 2001. By this time I had become more familiar with my own and others' humanity and truly realised the gift of giving to others.
I travelled this second time to Nepal with an inner urge to be involved in social service, to help those who had little in the way of material support to express their natural capacity for growth and development.
It began a different aspect of self-discovery that continues to this day.
I am now a frequent visitor to Nepal and I consider it my second home.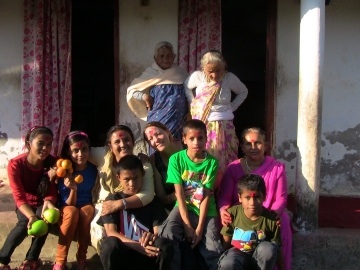 Through the natural growth of various projects, initiated in conjunction with Nepali friends, I have gained much experience and knowledge.
It has confirmed my inner knowing that a small amount of encouragement and support can create and stimulate growth and development in healthy ways.
Watching and listening to the stories of women and children in their expression of empowerment is very heart warming and encouraging. Witnessing men in their communities who have the courage to follow their ideas and establish new directions is uplifting. To know these people as my friends is a joy as I receive from them in so many ways!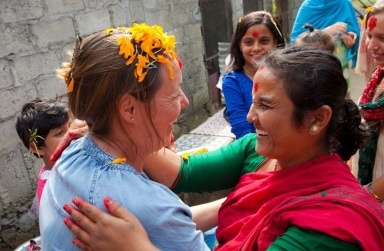 I have experienced a profound depth of heart opening through my times in Nepal. It has brought me to greater understanding of being with and approaching the topic of 'aid' from a holistic perspective.
Although people in Nepal (and many other places) may lack in education, material wealth and resources, these are human beings with an innate desire for growth.
My experience has deepened my belief that we truly can work, live, play, evolve and grow together with greater sensitivity and caring for one another.
Hands with Hands
This general topic of hands-with-hands has become a big part of my daily life. I am often in communication with my friends and new families in Nepal as well as sharing with interested people around the world. I have become more deeply aware of our global human community. It has also brought me into contact with some exceptional people, who are inspirations with their selfless contribution to the well-being of others. It has inspired me to new depths of compassion and action in my own life and to deeply realise that a developed spiritual life includes the welfare of all human beings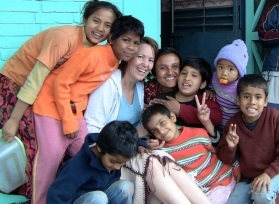 I hope that my own words shared here can inspire

other people to follow their own heart and intuition for the benefit of us all!

Together, hands-with-hands, we build better futures.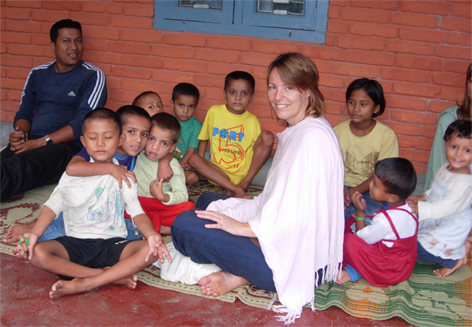 Building Better Futures - Hands with Hands - Nepal 2015
Kira Kay, present during April 25th earthquake talks about the destructive impact of the 7.8 earthquake and how we can all help in Nepal. Kira initiated HandswithHands NGO to support local communities in Nepal to develop local initiatives to evolve education, health, microcredit & child welfare in Nepal over the past 15 years.HwH is now working directly with these local communities in earthquake relief. The film shows where donations are most needed in supporting the people of Nepal to rebuild their country and their livelihoods with a sense of empowerment dignity and integrity. Join with us to make a difference.