Welcome to my "Kira's Blog"!
I thought that this would be an easy and helpful way of staying in more contact. I get so many emails I don't get to answer them all, or take so long in answering some people wonder if I am still getting their emails! So I thought I could share bits and pieces of interest here, post them as they come along into my life.
---
News update from Kira, August 2016
News Update from Kira Kay, August 2016
Deutsch Version hier: http://eepurl.com/cayABr
Hello dear friends,
I happened across something surprising this morning – my local news provider now has a dedicated segment for "good news," news that is uplifting, news about people inspiring, supporting and helping other people. I would love that this would be our "main" news and that we would have much smaller sections of what is currently our main news – dedicated news of war, murders and misfortune that incites fear, mistrust and anxiety. What might our world be like if this was turned around? If good news dominated our airwaves, TVs and the internet?

I do truly believe that humans are inherently kind and compassionate. We are born with natural capacity for all emotions, and with empathy – the ability to understand and feel what others experience. We are biologically designed to be in communities, to support one another for survival. Yet most of us these days are conditioned to look at life through the lenses of fear and mistrust, to center our survival on our self and not our whole community. With these coloured lenses it is easier to understand the assumptions and confusion that arise – cementing further the belief that we live in an unsafe world – and the consequent dysfunction of healthy communities.

Sure, there are people who will misuse and take advantage of others – especially the vulnerable – however in my opinion these are a minority. They gain power, prestige and dominance when we "give" them power, when we invest in fear and anxiety. The majority of us wish to live lives of peace, harmony and ease - no matter our colour, culture, gender or spiritual belief. We want to be treated with respect, kindness, love, and appreciation and to feel valued, seen, and heard, and to experience a sense of belonging.

Take a moment now to listen inside your own heart and allow your deepest truths. How would you truly like others to treat you, to see you? Breathe a few breaths and really reflect upon that question. I can imagine that many of you reading this will have come up with words such as: kindness, respect, with love, inclusion, empathy, and compassion. I doubt that many of you came up with words such as: hatred, disregard, exclusion, less than, lower than, judgement or animosity.

Given the dominance of a negative focus in our media and the current culture of dramatic reporting on death, disturbances and disasters as a main focus and the emphasis on how unsafe we are (escalating even further this past decade with the overuse of the word terrorism) it is no wonder that we become paranoid and untrusting of our fellow human beings. This out-of-balance media reporting has also normalised aberrant behaviours; we incorporate into everyday usage words, actions and games that accept rape, murder and hate crimes. These are not normal. A well-balanced person will find it incredibly difficult to truly kill another person. But if they have had thousands of hours witnessing and vicariously killing of other people through media, it becomes far easier. Is this really normal? No, it is not.

Can we make a difference? Can we reverse this perversion of our naturally compassionate nature? Yes, we can. Is it difficult? No, it isn't. We simply need to practice healthy habits and encourage that in our families and communities, to realign with our true nature, to consciously remember that we do wish to be cared for, that we do wish to care for others – that love does heal.

People who commit horrendous crimes of murder or otherwise cause pain and suffering are not in balance. It does not help to condemn them. Our hate and anger will simply fuel their imbalance and further create potential suffering and drama. These people need our care, love and understanding. Some may have the psychological or even biological incapacity to change or evolve into natural balance, yet they still require love and compassion to find a way and place to be that is safe for themselves and others.

I have dedicated my life to exploring humanity – my own and others. I consider it a life-long exploration that never ends. What I have discovered for myself thus far is that being a human is truly a gift. It may not always be easy to see it as a gift, as we may have such a variety of emotions and experiences that are not all pleasant. Nonetheless, I genuinely consider all aspects of being human is a gift. I have had the privilege, throughout my life, of being immersed in several different cultures and countries. This has given me a window of insight underneath our cultural and religious beliefs, beyond the colour of our skin. What I see is that we all aspire to the same essential truths – to be loved and accepted, to belong.

If you have read this far then I heart-fully ask you to join me in the revolution of love and compassion. To join a wave of compassion in action that is already gaining momentum. Many people are choosing to act from their heart, to listen to their own inner wisdom and intuition rather than their conditioned beliefs. I am thankful to have met many such people. And every single person who consciously joins this compassion in action has a multiplying effect. Join us.

It can be as simple as when you are walking down the street or on public transport to genuinely smile at other people, to meet their eyes with respectful feeling. You will benefit from this, as when another person feels "seen" they light up, they shine as if a flower has opened. This fragrance of opening affects all of us. As you give of yourself so you will gain.

If you hear of someone requiring assistance, volunteer. Choose to be proactive in supporting. When we help another person sincerely from our heart it is often so rewarding to see their relief and gratitude. I can say honestly that wherever you are, whichever country/city/town, there is a need for a helping hand. Reach out your hand, your heart. My personal experience in doing this is that I gain tenfold back what I give out. If you feel to share news with other people, either over a coffee or by media, consciously choose good news – uplifting stories of what is positively happening. Choose to look for healthy initiatives in your own life and the communities around you. Be mindful of the language that you use in everyday situations. Is it focused on negative, or opening outcomes? What we think, what we invest in, literally creates the reality in which we live – what do you choose to invest in? And therefore directly benefit from 😊

Many of you know of my involvement in Nepal with supporting of local initiatives to uplift people – it has continued to be an amazing journey of growth of development for all of us involved this past year post earthquake – visit my charity website: http://www.handswithhands.com for news updates and progress. I can certainly say this is one good news initiative that I have been directly involved with and can invite others to collaborate with us further! And thank you to everyone who has heartfully supported and participated this past year - there is much continuing to unfold in our rebuilding efforts and I appreciate the continued support and encouragement from many of you.

I hope with this message I have inspired you to consider your potential to uplift
others & yourself. Together we do make a difference to ourselves & each other!
Upcoming events with Kira:
Coming together in a supportive environment with guidance and encouragement can help you to see yourself and others more clearly with compassion.

* Now–September 30th Kira is available for Life Readings (email Josie for bookings on: This email address is being protected from spambots. You need JavaScript enabled to view it.)
* August 25–28th Intuition & Meditation for Daily Life: held out at Zegg community. Carlos will join Kira with his Crystal Delight sounds & Rafael with meditative yoga, which adds variety & depth to our time together, join us in exploring inner wisdom & truth with fun.
* Nov 13–21st Meditation & Yoga in the Himalayan Mountains in Nepal: Kira will be joined by Rafael to help facilitate an unforgettable experience of meditation in action & stillness.
* Dec 3–9th Satori Retreat, Byron Bay, Australia 6 days of deeply & honestly uncovering "who you really are," in a process that is beautifully evolved to help you discover "you". Intimately experience your own illumination of truth & discovery of self.
* Dec 12–16th Intuition 5-day Intensive, Byron Bay, Australia: "Intuition is my passion and I support you in these five days to practice and evolve your own capacity to "see" more clearly & deeply what is right here within you & around you - now." (Kira Kay)
* Jan 14–Mar 30th Kira will be available for Life Readings once again. (email Josie for bookings on: This email address is being protected from spambots. You need JavaScript enabled to view it.)

I look forward to stay in touch and meeting up with some of you
in the next months!
Some Good News stories
Most of us are uplifted when we hear or see something positive happening in our community. I am fortunate to come across numerous examples on a regular basis and I share a few real life happenings that have been in my world for various reasons this past week. Perhaps they inspire or touch your heart and generate a smile – or maybe even encourage you to share your own uplifting stories and experiences?!
Boyan Slat as a teenager wowed the world with his ideas of how to clean up the oceans of plastic. With a variety of helpers the prototype is now underway in the NorthSea – follow the progress of this innovative project:
http://www.theoceancleanup.com/
https://www.facebook.com/TheOceanCleanup/
Holistic healthy support for autistic children and their families – Denniz and Chrissy continue to support other families as their own Autistic son has evolved through their dedicated approach.
Facebook: https://www.facebook.com/autismus.akzeptieren/?fref=nf
Website: http://www.auja.org/
(Australia) Indigenous Milingimbi Art and Culture Centre is a sustainable local initiative to preserve and develop aboriginal art and culture – I have a couple of their baskets in my home that add a beautiful energy!
https://www.facebook.com/Milingimbi-Art-and-Culture-Centre-173588809363935/home
Spirituality and community – an interview with Kira Kay by Almut Groeger publish in March, 2016 in Sien magazine, Berlin (the article in German)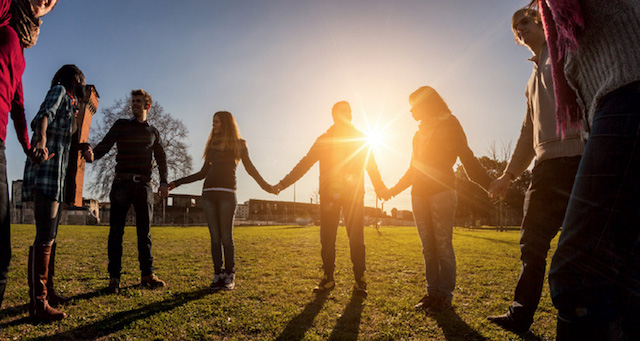 Kira Kay nimmt mehr wahr als andere Menschen. Durch ihren besonderen Zugang zu einem übergeordneten, ganzheitlichen Wissen unterstützt sie weltweit Menschen und Organisationen, Zusammenhänge und Sinnlinien wahrzunehmen und zu verstehen. Unter anderem ist sie Mitglied im Visionsrat des ZEGG und hilft dieser Gemeinschaft, ihrem evolutionären Impuls zu folgen und ihr Potenzial optimal für die Welt einzusetzen.
Almut Groeger sprach mit Kira Kay über ihr Verständnis von Spiritualität und Gemeinschaft.
Almut Groeger: Was bedeutet für dich Spiritualität?
Kira Kay: Für mich ist Spiritualität ein tiefes inneres Wissen. Man könnte sagen: innerer Frieden. Und ich bin davon überzeugt, dass jeder diese Quelle von Weisheit in sich trägt. Es ist nichts, was man erst erwerben muss. Und wenn wir in Verbindung mit dieser Quelle sind, dann leben wir aufrichtiger mit uns selbst, mit den Menschen und der Welt um uns herum. Es ist kein intellektuelles Wissen. Es ist ein tiefes Gefühl von Stimmigkeit. Von Richtigkeit, die erfasst, was in der jeweiligen Situation getan werden will. In meinem Leben geht es darum, mich und meine Spiritualität zu erforschen, durch meine Erfahrungen zu wachsen und auch andere darin zu ermutigen, sich mit ihrer Spiritualität vertraut zu machen.
Welche Rolle spielt Spiritualität in der Welt?
Spiritualität führt nach meiner Beobachtung dazu, dass wir viel mehr auf das Verbindende schauen als auf das Trennende. Dies führt dann zu einer gemeinsamen Art zu leben – im Zusammensein mit Menschen, Tieren, der Erde, dem ganzen Universum. Wenn wir auf diese tiefe Wissensquelle hören, stellt sich ganz von selbst ein Gleichgewicht ein. Zunächst gibt es das Bewusstsein meiner selbst. Mit dem Erwachen der Spiritualität wächst dann das Bewusstsein für die anderen und die Wichtigkeit der anderen. Das Wir schließt die ganze Welt um uns herum, ja das Universum mit ein. Und dieses größere Bild hat eine Auswirkung auf die Entscheidungen, die wir treffen – als Individuen, als Gemeinschaft, als Bürger eines Landes und der Erde. Mit jeder Person, die dieses Bewusstsein erwirbt, wächst das individuelle und das globale Potential. Deshalb sehe ich es als notwendig an, dass wir unsere Spiritualität erwecken.
Spiritualität ist von entscheidender Bedeutung in dieser Zeit. Die Grenzen, die wir in den letzten Jahrhunderten oder Jahrtausenden eigenmächtig gezogen haben, brechen zusammen. Wir leben in einer neuen, anderen Zeit. Wie wollen wir die damit einhergehenden Herausforderungen bewältigen? Mit den bekannten Maßnahmen, indem wir zum Beispiel Mauern und Grenzen bauen, wird es uns nicht gelingen. Wenn wir aber auf unsere tiefere Spiritualität hören, werden wir Antworten finden, die uns individuell und kollektiv befähigen, durch diese schwierigen Zeiten zu steuern. Es sind allerdings nicht unbedingt die Antworten, die unser Verstand mag. Vielleicht sind es sogar unbequeme Antworten.
Was bedeutet das für das Thema Gemeinschaft?
In Gemeinschaften finden Menschen mit ähnlicher Gesinnung, Einstellung und einer ähnlichen spirituellen Ausrichtung zusammen. Wenn dabei jeder auf die innere Stimme hört, dann werden wir herausfinden, dass es viele Gemeinsamkeiten mit anderen in Bezug auf unsere Werte gibt. Wenn jedes Mitglied auf seine innere Wahrheit achtet und dieser folgt, entsteht interessanterweise ein natürlicher Zusammenhalt und die Gemeinschaft spürt im Ganzen mehr Verbundenheit.
Braucht Gemeinschaft eine gemeinsame spirituelle Praxis?
Spiritualität ist etwas sehr Persönliches. Ich denke deshalb nicht, dass eine Gemeinschaft eine von allen geteilte spirituelle Praxis braucht. Aber ich würde sagen, dass jedes Mitglied einer Gemeinschaft seinen eigenen Weg zur Spiritualität finden sollte. Für einige Menschen kann das bedeuten, dass sie ein Meditationsretreat im Himalaya besuchen oder sich einen spirituellen Lehrer suchen. Manche Menschen finden sie in einer tiefen Beziehung zu sich selbst, indem sie ganz in ihrer Arbeit aufgehen, oder indem sie in die Natur gehen. Für andere Menschen kann es bedeuten, dass ihnen eine gemeinschaftliche Praxis gut tut. Wenn es solche Menschen mit ähnlichen Interessen in der Gemeinschaft gibt, kann es sehr unterstützend sein, sich zusammenzutun, denn es stärkt die Verbundenheit. Obwohl Gemeinschaften nach meiner Ansicht keine gemeinsame spirituelle Praxis benötigen, finde ich, dass sie das Gespräch über das Thema "Spiritualität" brauchen. Vor allem bezüglich der Frage: Was ist die tiefere Wahrheit, welche die Menschen in dieser Gruppe zusammenbringt? Welches auch immer der offiziell erklärte Zweck einer Gemeinschaft ist: Auf die eine oder andere Weise verbirgt sich darin eine spirituelle Intention. Sonst würden die Menschen nicht zusammenkommen.
Du arbeitest ehrenamtlich in Nepal. Was hat das mit Gemeinschaften und Spiritualität zu tun?
Wir sind als Menschen nicht dazu gemacht, in Isolation zu leben. Wir sind soziale Wesen. Wir sind dazu veranlagt, uns für einen höheren Zweck zusammenzutun. Und beim Geben empfangen wir. Wir wachsen und lernen über uns selbst und die anderen.
Vor mehr als zwanzig Jahren wurde ich innerlich gerufen, nach Nepal zu gehen.
Ich kam nicht mit der Idee: Ich will den Menschen helfen. Ich hatte ein tiefes Wissen, dass es für mich da etwas zu geben und etwas zu empfangen gibt. Und es ist bis heute eine außergewöhnliche Reise. Ich mache die Erfahrung, eine Brücke zu sein. Eine Brücke zwischen verschiedenen Kulturen, eine Brücke für den Austausch von Wissen und Knowhow. Und bei all dem geht es auch um Spiritualität. Ich finde, die Nepalesen verkörpern die Spiritualität auf eine ganz natürliche Weise. Sie wird bei ihnen viel sichtbarer gelebt als in unserer westlichen Kultur. Ganz selbstverständlich und natürlich gehen die Nepalesen erst nach innen, bevor sie sich zu einer Handlung entschließen. Ich habe in Nepal erfahren, dass die Spiritualität ein ganz natürlicher Teil des Lebens ist. Und ich konnte erleben, dass es normal ist, dass wir eine große Gemeinschaft sind. Egal welches Geschlecht, welche Familie oder Kultur wir haben, wir sind alle Menschen. Und wenn wir auf andere Menschen eingehen, wenn wir unseren Impulsen folgen und jemandem über die Straße helfen oder einem Freund beim Renovieren helfen, dann bleibt uns oft ein gutes, wohliges Gefühl. Wir haben ein Geschenk empfangen. Wir sind in einem anderem Zustand. Es geht uns und auch der Person, der wir geholfen haben, besser. Das ist eine ganz natürliche Sache. Für mich persönlich hat das bedeutet, dass ich regelmäßig nach Nepal fahre, aber für dich kann es bedeuten, dass du einem Nachbarn hilfst oder was auch immer. Wenn wir auf unser Herz hören, dann geht es darum, dass es uns allen besser geht. Es geht nicht nur um uns selbst, sondern um uns alle. Wenn man das so sieht, ist die ganze Welt unsere Gemeinschaft. Oder ich drücke es auch oft so aus: Die ganze Welt ist unsere Familie.
Wenn ich dir so zuhöre, dann könnte ich das Wort "Spiritualität" auch durch das Wort "Intuition" ersetzen. Du gibst ja auch Workshops zu den Themen Intuition und Meditation. Wie hängen Spiritualität und Intuition zusammen?
Intuition ist diese tiefere innere Weisheit, die ich auch Spiritualität nenne. Meine persönliche Erfahrung ist, dass es da keinen Unterschied gibt. Dieses Wissen kann die Vergangenheit, andere Menschen, gegenwärtige Situationen und auch die Zukunft mit einschließen. Wir alle haben dieses Potenzial. Es ist einfach nur so, dass wir verlernt haben, wie wir die Intuition nutzen können. Es ist meine Leidenschaft, diese Fähigkeit für mich selbst und dann auch mit und für andere wieder zu entdecken. Denn ich denke, dass wir alle in einer besseren Welt leben werden, wenn wir auf unsere innere Stimme und nicht auf einengende Konditionierungen hören. Denn dann erweitern wir unseren Blick und schließen andere mit ein. Dadurch entsteht mehr Zusammenhalt. Und für die Herausforderungen, die uns individuell und kollektiv bevorstehen, ist das der intelligenteste Weg.
Außerdem: Wenn wir auf die intuitive Weisheit, auf die Spiritualität hören, gibt es mehr Lebendigkeit in uns. Das ist besser für unser körperliches und emotionales Wohlbefinden. Das ist die Art, wie Wunder passieren. Die richtigen Dinge passieren einfach. Und selbst wenn eine Schwierigkeit auftaucht, hast du die Gewissheit: Ja, das ist eine Herausforderung und in ihr liegt etwas Wertvolles für mich. So entwickeln wir uns in sehr schwierigen Zeiten weiter und erleben jede Situation als eine Erweiterung unserer Welt.
Wie kann ich meine innere Stimme erkennen?
Es ist die Stimme, die freundlich ist. Manchmal ist sie auch neutral. Sie ist nicht für oder gegen etwas. Sie ist nie! – niemals – be- oder verurteilend. Statt dessen sagt sie sehr sachlich: "Tu dies, tu jenes nicht." Die Stimme hat kein Urteil in sich. Wenn du dich unter Druck gesetzt fühlst, dann kommt die Information aller Wahrscheinlichkeit nach aus dem Verstand und nicht aus dem inneren Wissen, der Intuition. Unsere Spiritualität, die Intuition, ist bei uns, wo auch immer wir sind, in jeder Situation. Wir müssen nicht irgendwo hingehen, um eine Botschaft zu erhalten. Wenn wir uns mehr mit dem direkten Zugang zur Intuition in uns vertraut gemacht haben, besitzen wir diese Fähigkeit in jedem Gespräch, in jeder Situation, bei der Arbeit, bei allen kleinen oder großen Begebenheiten. Sie ist immer da.
Welcome 2016 - Bathing in Grace & Peace
Watching the sun rise this morning I was reminded once again how ordinarily profound it is that we have the gift of a new day - every day! A fresh day to be. I bathed in one of my favorite scared spots in the nature just after sunrise feeling the refreshing cool waters wash over my skin, another simple reminder - of how good water feels. Sitting quietly afterwards hearing the alive stillness of the forest around, feeling grace & peace - I sincerely wish 2016 to bath all of us in new beginnings and may each of us have many moments to reflect & remember to 'be' and perhaps in that alive stillness hear our heart's messages that allow our lives to flow naturally into grace & peace.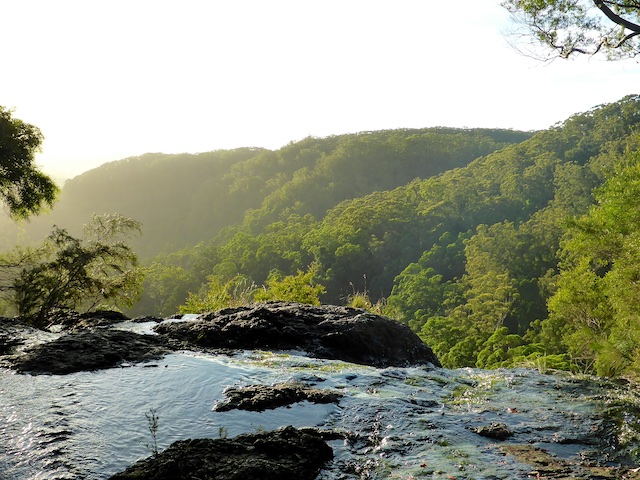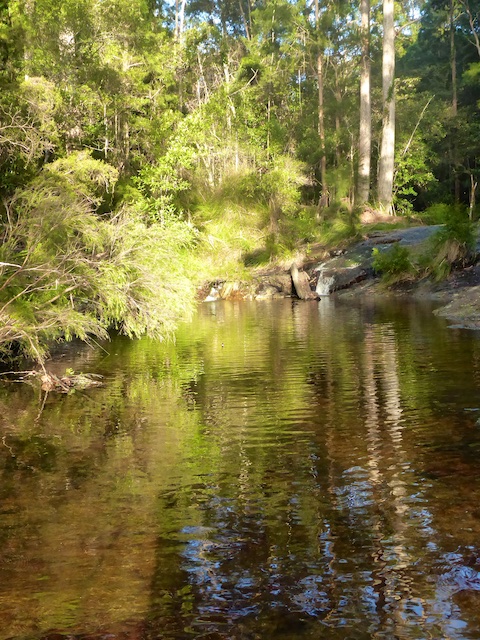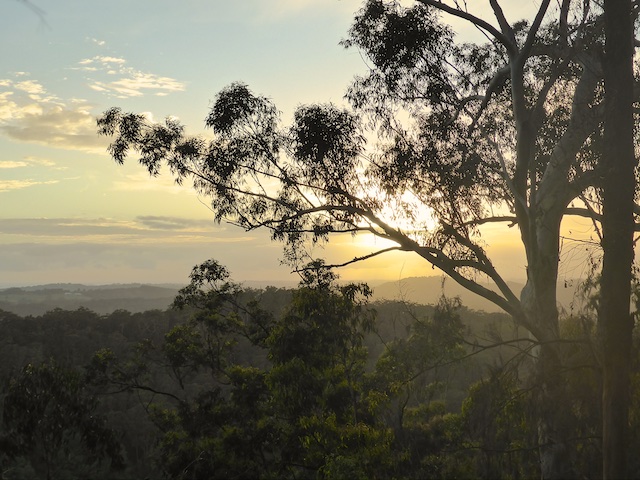 Giving gifts that keep on giving
I often wonder the world would be like if each one of us listened to our heart, our inner wisdom, and truly gave of ourselves to each other and the world around us. A world where giving is about supporting & empowering of others and not about status or accumulation of more 'stuff' – where the giver feels so incredibly given to by giving!
This past year has been a kaleidoscope of experiences on this theme for me. Receiving support and donations in many forms that I could then pass on and share within Nepal after the massive earthquake – experiencing this amazing ripple effect of nourishing heartfelt support. I wish I could somehow convey the profoundness of connections that this illuminated – how so many of us are much more deeply in touch and in tune with one another than we may realise.
Now as we come to the time of year where there is a lot of focus on giving of gifts I invite all of us to consider and contemplate gifts that keep on giving … I am sure there can be many creative options explored! One that is close to my heart is of course making a donation to my charity, www.handswithhands.com however you may uncover all sorts of interesting gifts that keep on giving! I will be curious to hear the variety that may come about from a little reflection, creativity, perhaps also a little vulnerability as we give of ourselves …
My Christmas wish this year is that as we sit down with our beloveds and share gifts that in our heart of hearts we experience that delightful inner feeling of having made someone else feel uplifted, supported and cared about...
To all my Nepalese family & friends ... I wish you a very happy Vijaya Dashami 2015 - may life smile kindly on you this festival & the year ahead
I dedicate this post to all my Nepali Friends & Family who have opened my heart and mind with your smiles & innocent resilence heart emoticon heart emoticon heart emoticon
One (of the many!) things I enjoy when I am in Nepal is the smiles – they are not automatic responses but alive, gorgeously unique movies that start with the eyes. A twinkle of recognition that you have 'met' followed by the whole face coming alive in warmth and openness – even if you are simply passing strangers in the street. These smiles - from children, elders and everyone in between - never fail to uplift my day and add a spring to my step.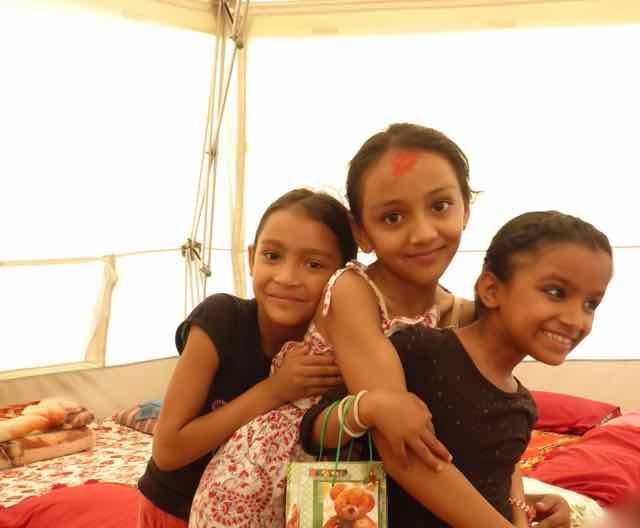 Along with these smiles comes frequent acceptance of "what is". Ever since my first visit to Nepal 20 years ago I have been witness to a wide number of obstacles that have befallen the country - yet again and again I hear the refrain "ke karne?"(What to do?) said with a smile. People simply get on with life and make the best of whatever limited circumstances currently prevail.
At present circumstances are challenging by anyone's measure! Not only has the country experienced a massive 7.9 earthquake less than 6 months ago leaving more than a million people in temporary shelters and thousands of schools destroyed - also now Nepal is in the midst of a complicated political process that has resulted in this landlocked country having its main border with India closed preventing essential supplies (fuel, medicines, food items & more) coming in. I will not go into the political issues aside from saying it is both complicated and involves two super powered neighbours!
Currently the lines of buses/trucks/taxis waiting for fuel snake along the side of roads for 2 or 3 kms, the drivers patiently waiting and drinking chya (tea) as the days pass and no fuel arrives. I heard today there was a possibility of gas cylinder refills – the line for this numbered close to 4000 people. In truth a small number compared to the approximately million households in the Kathmandu valley alone who use gas for all their cooking needs.
Many homes and restaurants are resorting to burning wood fires to cook and small electric induction stoves are fetching 5 times their normal price. Oh and one must remember that electricity is not a 24hr easy access – load shedding (rolling brownouts) occur year round as there is not enough electricity to supply demand. Sometimes the daily electric supply is only 6 hrs in a 24 hrs period !! Oh and I should also add water is also a scarce resource in the capital, most households relying on deliveries by trucks (currently very limited due to the fuel crisis) for their daily needs.
Yet despite all these challenges the smiles are constant! Perhaps even a bit wider with the challenges, because what else can you do except accept?! The festival of Dashain these next days will be celebrated, when families and friends come together and cook, eat and rejoice – sharing blessings with one another for health & prosperity.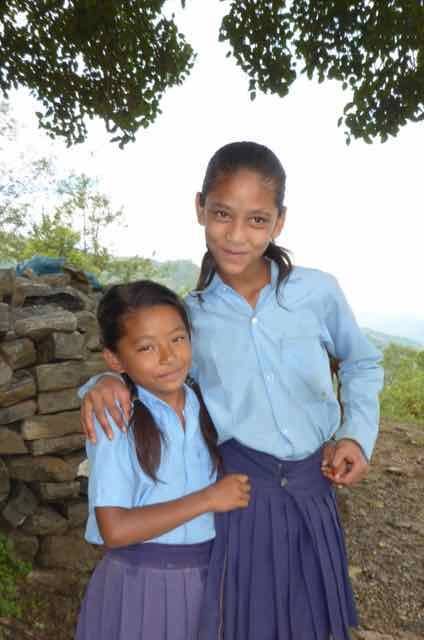 I am sure even more smiles will abound the next days as the festival atmosphere of celebration overshadows the day-to-day reality of limitations. The resilient Nepali spirit shining through, reminding me why I love this country and the people so much!!
The next days I will be celebrating the Dashain festival with our children, at Bhaktapur Children home in Sipadol village – I am sure of much laughter and smiles to light my days and encourage my dreams that life is hopeful no matter how it may seem!
Truly I feel blessed by my time here in Nepal – every single visit nourishes my soul deeply & profoundly! Even though there are challenges here in Nepal - and in truth there can be unsafe aspects with the buildings post earthquake – in general I can wholeheartedly encourage visitors to come and find their own impressions & perhaps you may also find your heart ensnared by the innocent open smiles I know so well and discover you have to repeatedly visit!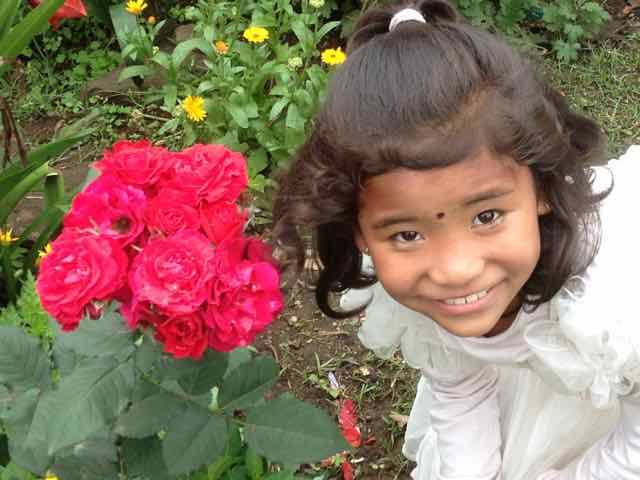 Celebrating my Father
My father gave me many valuable gifts – the first co-creating that I am alive! Even though he died more than 27 years ago I feel the impact of his love and the legacy of life lessons he passed on to me every day. On this day celebrating fathers I dedicate this post to my father, "Rafe Charles".
"Thank you dad for teaching me to question, to not take things at face value but to investigate and find out truth for myself - it has not always been easy to do this yet the solid foundation of integrity I now feel within I am thankful for every single day. Your consistent reminder that I could be whatever I wanted to be has given me freedom many times over. Your willingness to involve yourself in whichever community you found yourself and offering your practical skills and sincere compassion has guided my own actions again and again. Your openess to be wrong, to open your mind even to situations/knowledge you disagreed has inspired me to remember there is always another side to the story. The way you would truly see other people, especially those in difficult circumstances/backgrounds and help uplift them into better opportunities has motivated and encourage me to always look for those who may need more support than others and to be available. Your patient and unconditional love towards me is something I am still growing and evolving with, consistently touched and amazed at the new levels I discover. I do miss not having you around to share my life with, to talk with, to embrace and to laugh - oh and of course to cook awesome meals in the kitchen with! However the gifts you have given me are timeless and allow me to feel close with you in my everyday life. Thank you for being you dad, and thank you so much for all that you have gifted me, even in your death you gave me so much … and I know you would be proud of me! Happy Father's day dad!"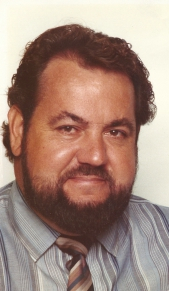 July 2015 Newsletter update
News Update from Kira Kay, July 2015
Hello dear friends,
2015 has been an interesting year so far for me – New Year's Day, the building I was staying in was hit by lightning, giving me an extraordinary experience of being shattered with light and sound yet feeling very whole, complete and safe. Perhaps this was a precursor for me to remember about wholeness and potential in the face of seeming disaster, as just four months later I was in Nepal during the massive earthquake. It has been an exceptional experience to share this with the Nepali communities that have become my friends and family over the past 15 years

I link here a short video clip that was made for me (thank you, Rani & Ulrich!) just after I had returned from Nepal post earthquake. It will give a glimpse of what I've been doing in Nepal and some of my experience during the earthquake.
Building Better Futures - Hands with Hands - Nepal 2015
Recently, many of you have called or written to me personally and offered support in various ways. This has been tremendously helpful, even if I have not had the chance to reply to each of you individually. Supporting one another in such a time of crisis has made me very much aware of how connected we are as an extended family. It has been so heartfully nourishing for me to have this experience and to realise it is truly possible. Some moments when I was feeling a bit flat, and overwhelmed with the extent my involvement in Nepal, I would receive a message or call that would uplift me and remind me that I was not alone.

Thank you to all of you who sent donations, good energy and your encouragement. These gifts are truly gifts that keep on giving, as in supporting me you enable me to support many of my Nepali friends to continue reaching out to support people most affected and in need.

My experiences the past 15 years in Nepal have deeply informed and helped evolve my Readings and Retreats. I have felt deeply nourished spiritually throughout the years I have been spending time involved in various social projects – naturally experiencing compassion in action. Now it feels truly that a coming together of my voluntary work in Nepal and my mainstream 'work' is unfolding.

To keep up to date with the progress of recovery & rebuilding that I am part of in Nepal through my organisation

Hands With Hands,

visit:

www.handswithhands.com

In the next weeks I will be outlining much more about rebuilding in eco-friendly, earthquake-safe ways that can empower communities on HwH website. As you might imagine, this experience gives me a lot to contemplate and grow with in so many ways!

I am incredibly grateful for my continued practice of both meditation and listening to my intuition, as there have been significant situations in the last months where the reflection of this has been a great support. Today happens to be the three-month anniversary exactly, and yet another aftershock occurred as I wrote, a reminder that Mother Earth is very alive. One point that has become even more clear for me is that natural disasters will always occur; it is up to us to decide how to live and build, and our choices will determine our ability to evolve with planet Earth! As well clarifying and evolving our relationship to ourselves and each other.

Some of you have been wondering if I am back doing readings and if workshops will be proceeding as scheduled. I did cancel the women's retreat in June in order to return to Nepal for a month to review, and support my Nepali friends and our projects. I was very thankful to have that time. To everyone who was involved in that change, thank you for your understanding. However now I can clearly state: Yes, I am back doing readings, & Yes, the rest of the year's planned events will proceed as on my calendar of events:
http://www.kirakay.com/calendar/kira-kay-s-events



*

Now–September 28th I am available for Life Readings (email Josie for bookings on:

This email address is being protected from spambots. You need JavaScript enabled to view it.

)
* August 27–30th Intuition & Meditation for Daily Life,held out at Zegg community. Carlos will join me with his Crystal Delight sounds & Rafael with meditative yoga, which adds variety & depth to our time together, join us in exploring inner wisdom & truth with fun.
* Nov 15–21st Meditation & Yoga in the Himalayan Mountains in Nepal.

I

will be joined by Rafael to help facilitate an unforgettable experience of meditation in action & stillness.
* Dec 5–11th Satori Retreat, Byron Bay, Australia

–

6 days of deeply & honestly uncovering "who you really are," in a process that is beautifully evolved to help you discover "you". Intimately experience your own illumination of truth & discovery of self.
* Dec 14–18th Intuition 5-day Intensive, Byron Bay, Australia

–

Intuition is my passion and I support you in these five days to practice and evolve your own capacity to "see" more clearly & deeply what is right here within you & around you - now.
* Jan 14–Mar 30th I will be available for Life Readings once again.
I look forward to stay in touch and meeting up with some of you in the next months, heartfelt love,