Welcome to my "Kira's Blog"!
I thought that this would be an easy and helpful way of staying in more contact. I get so many emails I don't get to answer them all, or take so long in answering some people wonder if I am still getting their emails! So I thought I could share bits and pieces of interest here, post them as they come along into my life.
---
Spirituality and community – an interview with Kira Kay by Almut Groeger publish in March, 2016 in Sien magazine, Berlin (the article in German)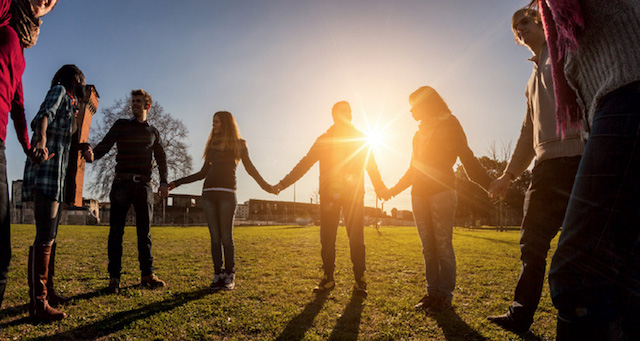 Kira Kay nimmt mehr wahr als andere Menschen. Durch ihren besonderen Zugang zu einem übergeordneten, ganzheitlichen Wissen unterstützt sie weltweit Menschen und Organisationen, Zusammenhänge und Sinnlinien wahrzunehmen und zu verstehen. Unter anderem ist sie Mitglied im Visionsrat des ZEGG und hilft dieser Gemeinschaft, ihrem evolutionären Impuls zu folgen und ihr Potenzial optimal für die Welt einzusetzen.
Almut Groeger sprach mit Kira Kay über ihr Verständnis von Spiritualität und Gemeinschaft.
Almut Groeger: Was bedeutet für dich Spiritualität?
Kira Kay: Für mich ist Spiritualität ein tiefes inneres Wissen. Man könnte sagen: innerer Frieden. Und ich bin davon überzeugt, dass jeder diese Quelle von Weisheit in sich trägt. Es ist nichts, was man erst erwerben muss. Und wenn wir in Verbindung mit dieser Quelle sind, dann leben wir aufrichtiger mit uns selbst, mit den Menschen und der Welt um uns herum. Es ist kein intellektuelles Wissen. Es ist ein tiefes Gefühl von Stimmigkeit. Von Richtigkeit, die erfasst, was in der jeweiligen Situation getan werden will. In meinem Leben geht es darum, mich und meine Spiritualität zu erforschen, durch meine Erfahrungen zu wachsen und auch andere darin zu ermutigen, sich mit ihrer Spiritualität vertraut zu machen.
Welche Rolle spielt Spiritualität in der Welt?
Spiritualität führt nach meiner Beobachtung dazu, dass wir viel mehr auf das Verbindende schauen als auf das Trennende. Dies führt dann zu einer gemeinsamen Art zu leben – im Zusammensein mit Menschen, Tieren, der Erde, dem ganzen Universum. Wenn wir auf diese tiefe Wissensquelle hören, stellt sich ganz von selbst ein Gleichgewicht ein. Zunächst gibt es das Bewusstsein meiner selbst. Mit dem Erwachen der Spiritualität wächst dann das Bewusstsein für die anderen und die Wichtigkeit der anderen. Das Wir schließt die ganze Welt um uns herum, ja das Universum mit ein. Und dieses größere Bild hat eine Auswirkung auf die Entscheidungen, die wir treffen – als Individuen, als Gemeinschaft, als Bürger eines Landes und der Erde. Mit jeder Person, die dieses Bewusstsein erwirbt, wächst das individuelle und das globale Potential. Deshalb sehe ich es als notwendig an, dass wir unsere Spiritualität erwecken.
Spiritualität ist von entscheidender Bedeutung in dieser Zeit. Die Grenzen, die wir in den letzten Jahrhunderten oder Jahrtausenden eigenmächtig gezogen haben, brechen zusammen. Wir leben in einer neuen, anderen Zeit. Wie wollen wir die damit einhergehenden Herausforderungen bewältigen? Mit den bekannten Maßnahmen, indem wir zum Beispiel Mauern und Grenzen bauen, wird es uns nicht gelingen. Wenn wir aber auf unsere tiefere Spiritualität hören, werden wir Antworten finden, die uns individuell und kollektiv befähigen, durch diese schwierigen Zeiten zu steuern. Es sind allerdings nicht unbedingt die Antworten, die unser Verstand mag. Vielleicht sind es sogar unbequeme Antworten.
Was bedeutet das für das Thema Gemeinschaft?
In Gemeinschaften finden Menschen mit ähnlicher Gesinnung, Einstellung und einer ähnlichen spirituellen Ausrichtung zusammen. Wenn dabei jeder auf die innere Stimme hört, dann werden wir herausfinden, dass es viele Gemeinsamkeiten mit anderen in Bezug auf unsere Werte gibt. Wenn jedes Mitglied auf seine innere Wahrheit achtet und dieser folgt, entsteht interessanterweise ein natürlicher Zusammenhalt und die Gemeinschaft spürt im Ganzen mehr Verbundenheit.
Braucht Gemeinschaft eine gemeinsame spirituelle Praxis?
Spiritualität ist etwas sehr Persönliches. Ich denke deshalb nicht, dass eine Gemeinschaft eine von allen geteilte spirituelle Praxis braucht. Aber ich würde sagen, dass jedes Mitglied einer Gemeinschaft seinen eigenen Weg zur Spiritualität finden sollte. Für einige Menschen kann das bedeuten, dass sie ein Meditationsretreat im Himalaya besuchen oder sich einen spirituellen Lehrer suchen. Manche Menschen finden sie in einer tiefen Beziehung zu sich selbst, indem sie ganz in ihrer Arbeit aufgehen, oder indem sie in die Natur gehen. Für andere Menschen kann es bedeuten, dass ihnen eine gemeinschaftliche Praxis gut tut. Wenn es solche Menschen mit ähnlichen Interessen in der Gemeinschaft gibt, kann es sehr unterstützend sein, sich zusammenzutun, denn es stärkt die Verbundenheit. Obwohl Gemeinschaften nach meiner Ansicht keine gemeinsame spirituelle Praxis benötigen, finde ich, dass sie das Gespräch über das Thema "Spiritualität" brauchen. Vor allem bezüglich der Frage: Was ist die tiefere Wahrheit, welche die Menschen in dieser Gruppe zusammenbringt? Welches auch immer der offiziell erklärte Zweck einer Gemeinschaft ist: Auf die eine oder andere Weise verbirgt sich darin eine spirituelle Intention. Sonst würden die Menschen nicht zusammenkommen.
Du arbeitest ehrenamtlich in Nepal. Was hat das mit Gemeinschaften und Spiritualität zu tun?
Wir sind als Menschen nicht dazu gemacht, in Isolation zu leben. Wir sind soziale Wesen. Wir sind dazu veranlagt, uns für einen höheren Zweck zusammenzutun. Und beim Geben empfangen wir. Wir wachsen und lernen über uns selbst und die anderen.
Vor mehr als zwanzig Jahren wurde ich innerlich gerufen, nach Nepal zu gehen.
Ich kam nicht mit der Idee: Ich will den Menschen helfen. Ich hatte ein tiefes Wissen, dass es für mich da etwas zu geben und etwas zu empfangen gibt. Und es ist bis heute eine außergewöhnliche Reise. Ich mache die Erfahrung, eine Brücke zu sein. Eine Brücke zwischen verschiedenen Kulturen, eine Brücke für den Austausch von Wissen und Knowhow. Und bei all dem geht es auch um Spiritualität. Ich finde, die Nepalesen verkörpern die Spiritualität auf eine ganz natürliche Weise. Sie wird bei ihnen viel sichtbarer gelebt als in unserer westlichen Kultur. Ganz selbstverständlich und natürlich gehen die Nepalesen erst nach innen, bevor sie sich zu einer Handlung entschließen. Ich habe in Nepal erfahren, dass die Spiritualität ein ganz natürlicher Teil des Lebens ist. Und ich konnte erleben, dass es normal ist, dass wir eine große Gemeinschaft sind. Egal welches Geschlecht, welche Familie oder Kultur wir haben, wir sind alle Menschen. Und wenn wir auf andere Menschen eingehen, wenn wir unseren Impulsen folgen und jemandem über die Straße helfen oder einem Freund beim Renovieren helfen, dann bleibt uns oft ein gutes, wohliges Gefühl. Wir haben ein Geschenk empfangen. Wir sind in einem anderem Zustand. Es geht uns und auch der Person, der wir geholfen haben, besser. Das ist eine ganz natürliche Sache. Für mich persönlich hat das bedeutet, dass ich regelmäßig nach Nepal fahre, aber für dich kann es bedeuten, dass du einem Nachbarn hilfst oder was auch immer. Wenn wir auf unser Herz hören, dann geht es darum, dass es uns allen besser geht. Es geht nicht nur um uns selbst, sondern um uns alle. Wenn man das so sieht, ist die ganze Welt unsere Gemeinschaft. Oder ich drücke es auch oft so aus: Die ganze Welt ist unsere Familie.
Wenn ich dir so zuhöre, dann könnte ich das Wort "Spiritualität" auch durch das Wort "Intuition" ersetzen. Du gibst ja auch Workshops zu den Themen Intuition und Meditation. Wie hängen Spiritualität und Intuition zusammen?
Intuition ist diese tiefere innere Weisheit, die ich auch Spiritualität nenne. Meine persönliche Erfahrung ist, dass es da keinen Unterschied gibt. Dieses Wissen kann die Vergangenheit, andere Menschen, gegenwärtige Situationen und auch die Zukunft mit einschließen. Wir alle haben dieses Potenzial. Es ist einfach nur so, dass wir verlernt haben, wie wir die Intuition nutzen können. Es ist meine Leidenschaft, diese Fähigkeit für mich selbst und dann auch mit und für andere wieder zu entdecken. Denn ich denke, dass wir alle in einer besseren Welt leben werden, wenn wir auf unsere innere Stimme und nicht auf einengende Konditionierungen hören. Denn dann erweitern wir unseren Blick und schließen andere mit ein. Dadurch entsteht mehr Zusammenhalt. Und für die Herausforderungen, die uns individuell und kollektiv bevorstehen, ist das der intelligenteste Weg.
Außerdem: Wenn wir auf die intuitive Weisheit, auf die Spiritualität hören, gibt es mehr Lebendigkeit in uns. Das ist besser für unser körperliches und emotionales Wohlbefinden. Das ist die Art, wie Wunder passieren. Die richtigen Dinge passieren einfach. Und selbst wenn eine Schwierigkeit auftaucht, hast du die Gewissheit: Ja, das ist eine Herausforderung und in ihr liegt etwas Wertvolles für mich. So entwickeln wir uns in sehr schwierigen Zeiten weiter und erleben jede Situation als eine Erweiterung unserer Welt.
Wie kann ich meine innere Stimme erkennen?
Es ist die Stimme, die freundlich ist. Manchmal ist sie auch neutral. Sie ist nicht für oder gegen etwas. Sie ist nie! – niemals – be- oder verurteilend. Statt dessen sagt sie sehr sachlich: "Tu dies, tu jenes nicht." Die Stimme hat kein Urteil in sich. Wenn du dich unter Druck gesetzt fühlst, dann kommt die Information aller Wahrscheinlichkeit nach aus dem Verstand und nicht aus dem inneren Wissen, der Intuition. Unsere Spiritualität, die Intuition, ist bei uns, wo auch immer wir sind, in jeder Situation. Wir müssen nicht irgendwo hingehen, um eine Botschaft zu erhalten. Wenn wir uns mehr mit dem direkten Zugang zur Intuition in uns vertraut gemacht haben, besitzen wir diese Fähigkeit in jedem Gespräch, in jeder Situation, bei der Arbeit, bei allen kleinen oder großen Begebenheiten. Sie ist immer da.
Welcome 2016 - Bathing in Grace & Peace
Watching the sun rise this morning I was reminded once again how ordinarily profound it is that we have the gift of a new day - every day! A fresh day to be. I bathed in one of my favorite scared spots in the nature just after sunrise feeling the refreshing cool waters wash over my skin, another simple reminder - of how good water feels. Sitting quietly afterwards hearing the alive stillness of the forest around, feeling grace & peace - I sincerely wish 2016 to bath all of us in new beginnings and may each of us have many moments to reflect & remember to 'be' and perhaps in that alive stillness hear our heart's messages that allow our lives to flow naturally into grace & peace.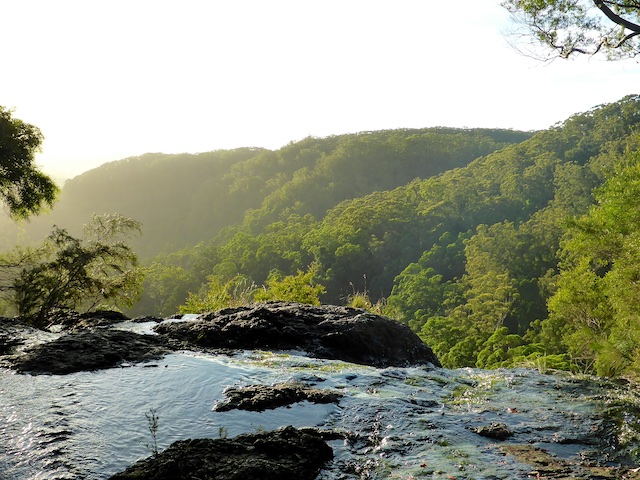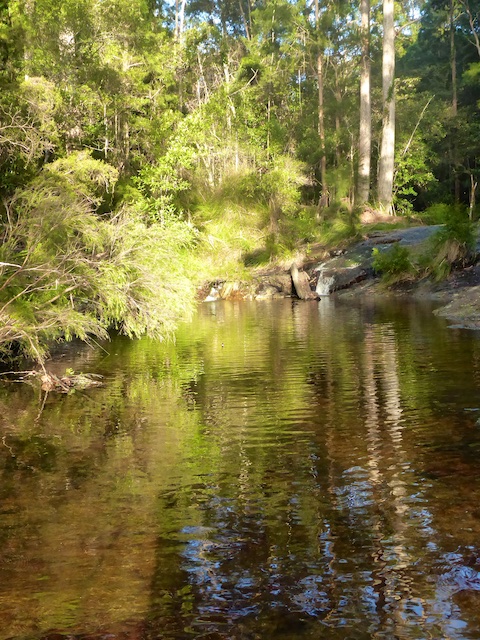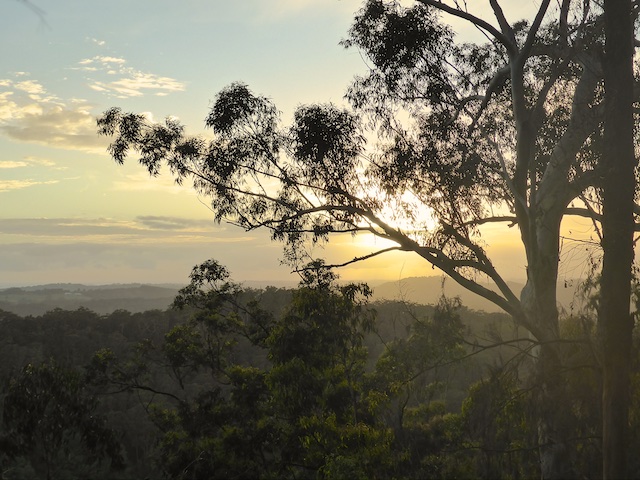 Giving gifts that keep on giving
I often wonder the world would be like if each one of us listened to our heart, our inner wisdom, and truly gave of ourselves to each other and the world around us. A world where giving is about supporting & empowering of others and not about status or accumulation of more 'stuff' – where the giver feels so incredibly given to by giving!
This past year has been a kaleidoscope of experiences on this theme for me. Receiving support and donations in many forms that I could then pass on and share within Nepal after the massive earthquake – experiencing this amazing ripple effect of nourishing heartfelt support. I wish I could somehow convey the profoundness of connections that this illuminated – how so many of us are much more deeply in touch and in tune with one another than we may realise.
Now as we come to the time of year where there is a lot of focus on giving of gifts I invite all of us to consider and contemplate gifts that keep on giving … I am sure there can be many creative options explored! One that is close to my heart is of course making a donation to my charity, www.handswithhands.com however you may uncover all sorts of interesting gifts that keep on giving! I will be curious to hear the variety that may come about from a little reflection, creativity, perhaps also a little vulnerability as we give of ourselves …
My Christmas wish this year is that as we sit down with our beloveds and share gifts that in our heart of hearts we experience that delightful inner feeling of having made someone else feel uplifted, supported and cared about...
To all my Nepalese family & friends ... I wish you a very happy Vijaya Dashami 2015 - may life smile kindly on you this festival & the year ahead
I dedicate this post to all my Nepali Friends & Family who have opened my heart and mind with your smiles & innocent resilence heart emoticon heart emoticon heart emoticon
One (of the many!) things I enjoy when I am in Nepal is the smiles – they are not automatic responses but alive, gorgeously unique movies that start with the eyes. A twinkle of recognition that you have 'met' followed by the whole face coming alive in warmth and openness – even if you are simply passing strangers in the street. These smiles - from children, elders and everyone in between - never fail to uplift my day and add a spring to my step.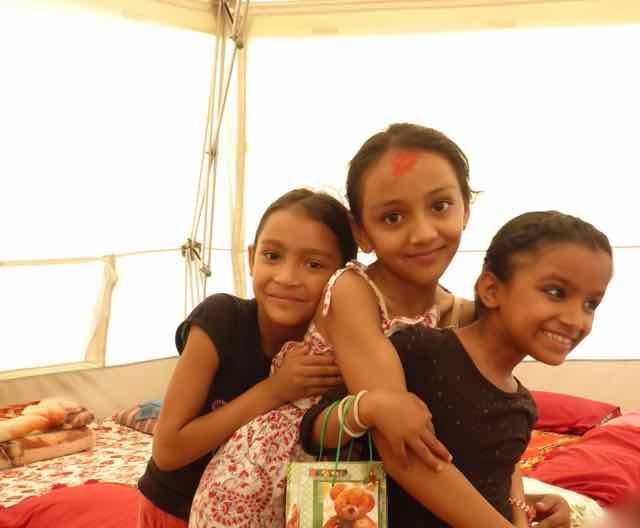 Along with these smiles comes frequent acceptance of "what is". Ever since my first visit to Nepal 20 years ago I have been witness to a wide number of obstacles that have befallen the country - yet again and again I hear the refrain "ke karne?"(What to do?) said with a smile. People simply get on with life and make the best of whatever limited circumstances currently prevail.
At present circumstances are challenging by anyone's measure! Not only has the country experienced a massive 7.9 earthquake less than 6 months ago leaving more than a million people in temporary shelters and thousands of schools destroyed - also now Nepal is in the midst of a complicated political process that has resulted in this landlocked country having its main border with India closed preventing essential supplies (fuel, medicines, food items & more) coming in. I will not go into the political issues aside from saying it is both complicated and involves two super powered neighbours!
Currently the lines of buses/trucks/taxis waiting for fuel snake along the side of roads for 2 or 3 kms, the drivers patiently waiting and drinking chya (tea) as the days pass and no fuel arrives. I heard today there was a possibility of gas cylinder refills – the line for this numbered close to 4000 people. In truth a small number compared to the approximately million households in the Kathmandu valley alone who use gas for all their cooking needs.
Many homes and restaurants are resorting to burning wood fires to cook and small electric induction stoves are fetching 5 times their normal price. Oh and one must remember that electricity is not a 24hr easy access – load shedding (rolling brownouts) occur year round as there is not enough electricity to supply demand. Sometimes the daily electric supply is only 6 hrs in a 24 hrs period !! Oh and I should also add water is also a scarce resource in the capital, most households relying on deliveries by trucks (currently very limited due to the fuel crisis) for their daily needs.
Yet despite all these challenges the smiles are constant! Perhaps even a bit wider with the challenges, because what else can you do except accept?! The festival of Dashain these next days will be celebrated, when families and friends come together and cook, eat and rejoice – sharing blessings with one another for health & prosperity.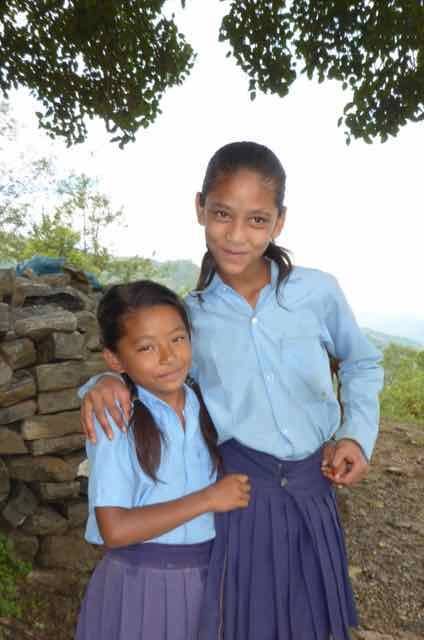 I am sure even more smiles will abound the next days as the festival atmosphere of celebration overshadows the day-to-day reality of limitations. The resilient Nepali spirit shining through, reminding me why I love this country and the people so much!!
The next days I will be celebrating the Dashain festival with our children, at Bhaktapur Children home in Sipadol village – I am sure of much laughter and smiles to light my days and encourage my dreams that life is hopeful no matter how it may seem!
Truly I feel blessed by my time here in Nepal – every single visit nourishes my soul deeply & profoundly! Even though there are challenges here in Nepal - and in truth there can be unsafe aspects with the buildings post earthquake – in general I can wholeheartedly encourage visitors to come and find their own impressions & perhaps you may also find your heart ensnared by the innocent open smiles I know so well and discover you have to repeatedly visit!