Books Recommended
This book list ranges over many areas and are the books on my shelf I like to keep and reflect on from time to time. I hope that they inspire your own journey!
Filters
Recommended by Kira Kay
Author
by Yongey Mingyur Rinpoche and Eric Swanson
Yongey Mingyur Rinpoche clearly identifies the sources of our anxiety/unease, describing methods of meditation that enable us to transform our experience into deeper insight in his very down to earth wisdom, grace and humour.
A powerful interpretation of an ancient Buddhist text, the wisdom is timeless and this translation/commentary is exceptionally relevant for many of us on our spiritual path
Recommended by Kira Kay
Author
Ogyen Trinley Dorje Karmapa
 A human and compassionate approach to everyday worldly issues we are experiencing – easy to read yet filled with a lot of insightful wisdom
An in depth, step by step walk through on living in/from vulnerability.  Brené Brown's personal experience of living from vulnerability shines through her practical and accessible talk. Listening to this can be both inspiring and life changing in a most profound and ordinary way.
A deeply inspiring true story of one young german blind woman's quest to understand the outcast condition of Blind children in Tibet and her establishment of the organisation Braille without Borders. Her story is both deeply touching and inspiring!
This self-published book expresses the experiences of Viti Simmons and her journey combining Pilbra, outback Australia experiences with her engagement in Nepal and the microcredit programs of HwH in a practical discussion on poverty alleviation.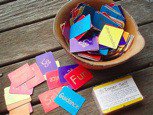 These simple, delightful 'cards' can be a wonderful daily tool to see yourself and your life more openly! Developed by Lin Bell, in Byron Bay, they capture all sides of life. I enjoy to use them and they are frequently used by friends when they visit.
A deeply inspiring and rejuvenating yearly diary, sprinkled with insightful quotes, reminders of the moon/astrological cycles and lots of space to record your own gratefulness. A fantastic Christmas gift to yourself or a dearest friend or family member!  Melanie, the author, also hosts magnificent rejuvenation retreats in Bali and other exotic locations, to nourish mind, body & soul!
Illuminating, enlightening, and uplifting, A New Earth is a profoundly
spiritual manifesto for a better way of life‹and for building a better
world.
Also:  (German version of the above in German audio book form,
spoken by Eckhart himself in German)
Jetzt! Die Kraft der Gegenwart  - Eckhart Tolle
Er ist auf derselben Ebene, spricht dieselbe Sprache wie jeder von uns,
und seine Worte treffen zielgenau. Sie betreffen unser Leben, unsere
Entwicklung, unsere Transformation. Mit der vorliegenden Audio-Version
seines Buches hat Eckhart all seinen deutschen Lesern ein besonderes
Geschenk gemacht: Er liest sein Buch - auf deutsch! Nachdem er mehr als 35
Jahre fast nur Englisch gesprochen hat, findet er, für ihn selbst
überraschend, zu der Sprache seiner Kindheit zurück. Welche Kostbarkeit!
Lehnen Sie sich zurück, schließen Sie die Augen, und lassen Sie die Worte
in ihrer Einfachheit und Tiefe auf sich wirken.
Dr. Brené Brown offers a powerful new vision that encourages us to dare greatly: to embrace vulnerability and imperfection, to live wholeheartedly, and to courageously engage in our lives. A must read!