Location 1: Himalayan Mountains – Nepal
October 25th - 15th November 2018
Nepal and its people is a profound teacher and offer a great diversity of experiences. Kira is currently offering a "Karma Yoga" retreat experience based in Nepal. This is a combination of accompanying Kira to various women and children projects in village locations as well enjoying the exquisite nature and culture of Nepal. A significant amount of time will be spent in contemplative discussion and experiences involving 'being available' in service. These segments provide wider perspectives on humanity, life, karma yoga and compassion in action that enable your understanding of mediation in daily life to evolve in your life. Naturally your retreat time will include breathtaking mountain locations with panoramic views of the Himalayan ranges. Sunrise and sunset meditations are natural invitations to awaken you to inner knowledge and life.
The next dates for the Nepal groups -

October 25th – November 15th
Location 2: Australian Desert outback
9th- 17th September 2019

The Australian desert is an extraordinary ancient land with open skies and vast wide planes. This is a walking meditation retreat, with camels, in the Australian outback desert. Max and Andrew, renowned ecologists with a long history of offering outback camel expeditions accompany Kira along with a dedicated support team. The ecologists will offer knowledge and education on the natural environment that we walk through as well explain the ongoing survey which is part of the expedition. Guidance with dreaming under the Milky Way starscape, instruction in mindful walking along with evening story telling and meditation insights with Kira, will inspire your inner wisdom to awake. Daily journal writing and sharing circles give natural space for your insights to emerge and integrate.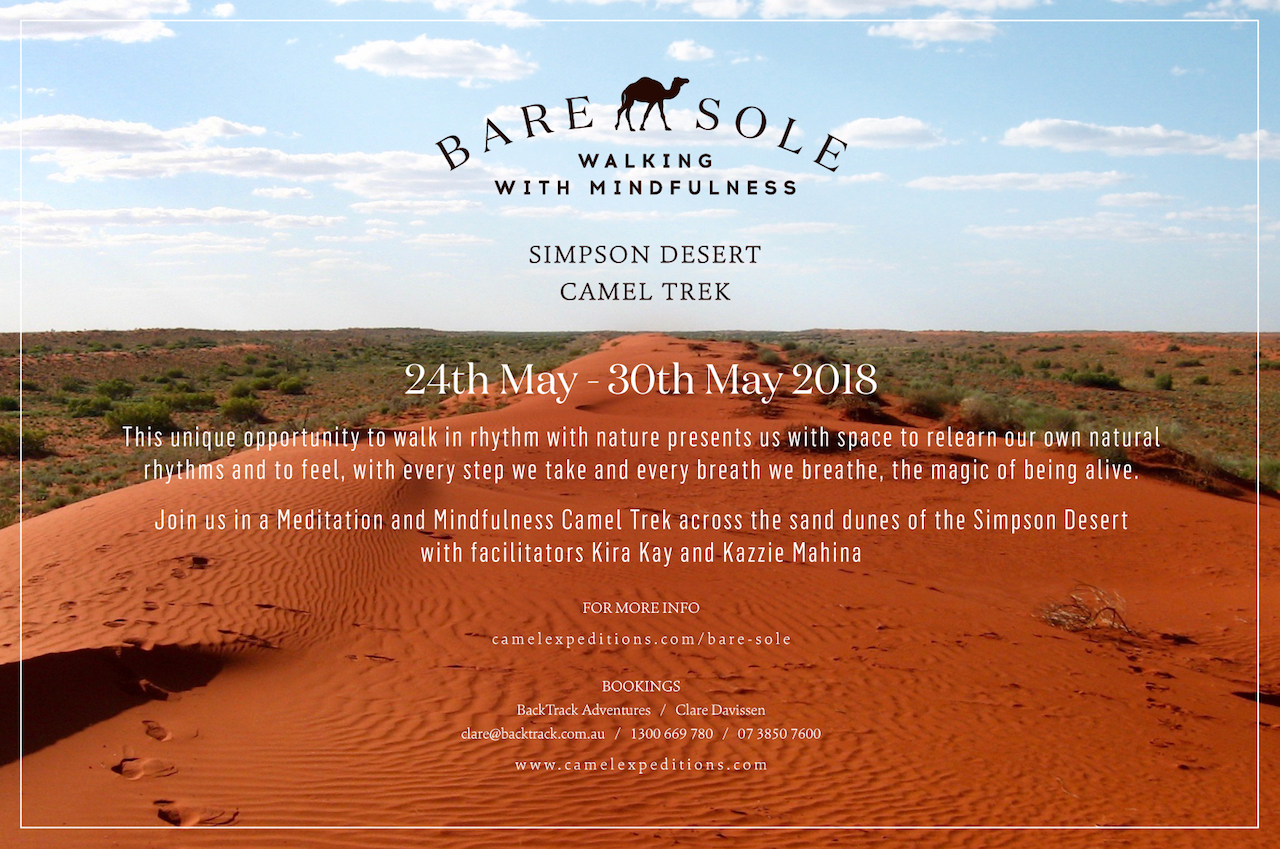 Zen Story: Moon Reflection
"Why must I meditate in order to achieve enlightenment?" demanded the prince of his teacher. "I can study. I can pray. I can think on issues clearly. Why this silly emptying of the mind?" "I will show you," said the teacher, taking a bucket of water into the garden under the full moon. "Now I stir the surface and what do you see?" "Ribbons of light," answered the prince. "Now wait," said the teacher setting the bucket down. Both teacher and boy watched the calming surface of the water in the bamboo bucket for many minutes. "Now what do you see?" asked the teacher. "The moon," replied the prince. "So, too, young master, the only way to grasp enlightenment is through a calm and settled mind." (From Zen Fables)